Halfway through the triathtlon's final leg, a 26.2-mile run, your body begins to break down. By now, you can't even remember why you decided to do this in the first place — your weekly hour-long bike seems far superior to this misery, but now even that may be in question. In some small cavern of your mind, behind the voices telling you to quit, you remember the thought the birthed this idea: "I want to push myself, and I think I have the potential to do this."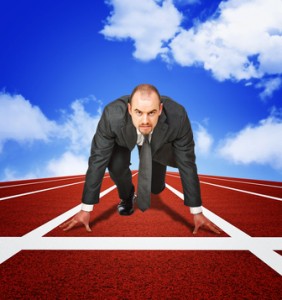 That same thought leads to entrepreneurial minds to leave their cushy nine-to-five jobs and launch businesses of their own. Much like running a triathlon, the rigors of running a small business can discourage owners from the vision that drove their actions. But those who are able to push through the seemingly insurmountable struggles will receive a hefty payoff at the finish line.
Preparation
No matter how inspired you feel, it's almost impossible to finish a triathlon without significant training. You know how to swim, bike and run, but unless you condition your body to perform all three activities efficiently, you don't stand a chance. At first, training is rewarding. After a while, it becomes a nuisance. As you approach the race, it's downright frustrating.
Starting a small business follows a similar curve. In its infancy, all the funding requests and paperwork seem like wheels turning, but that sentiment usually wears off. Still, thorough preparation prepares small businesses for the struggles of the marketplace. Whether you're registering your business as an LLC through SBA.gov or setting up a meeting with Capital Processing Network to arrange credit card equipment, small preparations that happen long before a business opens can determine whether or not it succeeds when the doors open.
Stamina
Short of breath, thirsty and weak in the knees, you never thought it would be this difficult. Thoughts of crossing the finish line are long gone. You're just focused on making the next stroke, peddle or step.
In 2010, more than 550,000 small businesses decided to join the race, but more than 660,000 took their last step, according to SBA.gov. No amount of encouragement will change the fact that more than half of small businesses in the United States fail within five years. Success will find those who know how to keep going. It may be reverting to your college diet or working weekends, but small business success is rarely found without struggle.
Addicting Success
Triathletes describe the feeling of finishing a race as immense pain coupled with sincere gratification. After months of training and hours of agony, most have a similar sentiment: Let's do it again.
Small business success may not have a finish line, but when owners are able to take a step back and declare that they've met goals, they should take a cue from these inspired athletes. Reaching goals and financial success in small business is an ongoing process. If you're lucky enough to make it to your finish line, enjoy it, say thanks and get to setting new goals. That's the mark of successful entrepreneur.