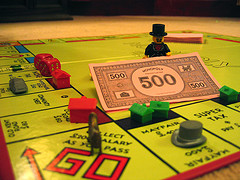 Are you a newbie online Entrepreneur having no clue how to get payments for your online business activities? If you are getting confused with terms such as Merchant Account, Payment Gateway, Third Party Payment Processor and wondering what that has to do with collection of payment for goods and services you render, this post is meant to help you. For well established online entrepreneur, you may find some useful tips in addition to what you already know.
I often receive emails from my readers (especially those from Nigeria) asking for help on how to open a PayPal account or a US bank account. Reading through some of the requests, it is obvious that those asking for help do not even fully understand what their needs are and as such often ask for solution that does not fit their need. So, I will start with a little explanation on what an online entrepreneur requires to collect payment online and then make suggestions on how even a Nigerian Entrepreneur can collect payment online.
Collecting Payment Online
Once you offer products or service for sale online, it is important that you have in place an easy way that your would be customer can pay you for such product or service. However, the system of receiving payment online will largely depend on the kind of customers you deal with and the kind of product/service you offer. Let's look at some practical examples.
My web hosting company NAIRAHOST is owned by a Nigerian and I pay for their services with local currency (Nigerian Naira), by using the banking facility provided in Nigeria. It is smooth and convenient for me. However, their customers outside Nigeria pay with dollars using Credit Cards or PayPal.
Of recent, I bought a Toshiba Laptop from BestBuy. The payment was made using a US bank issued Credit Card (this was done on my behalf by a friend).
Last week, I paid for a heavy industrial equipment worth several thousands of dollars. Even though the company is online, payment was made via secure Bank Telex Transfer because the amount involved was huge.
From this simple examples, you can see that one payment option may not fit all situations. The nature of your business activities plays a major role in determining what Payment Option your customer will consider suitable. So the first question to ask is; How do my customers want to pay? While there are several payment options such as:
Paper Cheque – A paper cheque is written and mailed to you. Not the most convenient or timely option.
Wire Transfer (Bank Telex Transfer) – Most suitable for huge amount of money. e.g local bank to a foreign correspondent bank.
Credit Cards – Most suitable for any amount of money. eg. MasterCard, VisaCard
E-Payments – Highly convenient for small amount of money. eg. E-Gold
I only listed the various options, but time will only permit us to look at just one. So, I will focus on the most common option, being credit card payment.
Credit Card Payments
Statistics have it that 90% of all online sales get settled through credit cards. So if the customers want to pay with their credit cards, you must put in place a facility for accepting credit card. It is a fact that for you to do business with consumers in the developed countries, your online business must be able to accept credit cards as a form of payment. To accept Credit Card payments, you will need to obtain either a personal merchant account or use the service of a third party processor.
What is a merchant account?
This is a special account provided by a bank or financial institution that enables an entrepreneur accept customer Credit Cards and other electronic payments via an e-commerce website. Simply put, it is a special kind of bank account. The process of getting a merchant account can be simple or rigorous depending on the kind of business activity the entrepreneur is carrying out online.
Third Party Credit Card Processors
If your business is small and your monthly turnover is less than five thousand, you may not need to bother about getting a personal merchant account. You can actually start collecting payment online by using the service of a third party Credit Card Processor. When the business turnover grows, you can then obtain your own merchant account. Let look at examples of affordable Third Party Credit Card Processors you can use.
PayPal
This is the most famous of them all. PayPal is a simple and affordable payment solution for new online entrepreneurs. It safes you the high cost and stress often associated with getting a merchant account. Also, PayPal offers different solutions to Online Entrepreneurs. We will take a look at three of them.
PayPal Website Payments Standard: Your customers are afforded the option of payment with Credit Cards or Paypal. The transaction is processed on PayPal secure server.
PayPal Website Payments Pro: Almost the same with above, but the customer does not leave your website at any time. It is quite similar to having your own merchant account.
PayPal Email Payments: This is the most common one. You simply open an account with PayPal and request your customers to pay you using your PayPal account details. This is sufficient for small online businesses who receives payments that are less than a thousand dollars per transaction. However, it is advisable and financially wise to upgrade to either of the two options mentioned earlier as soon as possible.
Advantages of using PayPal: PayPal is about the most popular payment options available online today. It is easy to open an account and the processing of transactions is quite fast. Also, a great number of consumers from the developed nations use PayPal.
Disadvantages of using PayPal: PayPal is not available to entrepreneurs residing in some countries, for example Nigerian Entrepreneurs residing in Nigeria are not allowed to open a PayPal account from Nigeria. Beside this, many former users of PayPal claim that your account can get frozen for a number of reasons and you stand to loose whatever amount of money you have in the account. This can be scary for an entrepreneur. Before choosing PayPal it is advisable that you read reviews on websites such as www.PayPalSucks.com
Note: I am neither promoting nor discrediting PayPal. I use it but cautiously. Also note that the account I use was NOT opened from Nigeria (don't fall prey to scammers who promise to open PayPal for you in Nigeria. A quick trip to PayPal.com will show you that Nigerians are not accepted for now. If you use a dubious way to open as a Nigerian Entrepreneur who is residing in Nigeria, you stand a higher risk of getting your account frozen).
AlertPay
AlertPay is an online payment service similar to PayPal. It provides individuals and businesses the ability to send and receive payments online without exposing their personal or financial information. The service is being provided by a Canadian privately owned and managed company founded in 2004. It is a rapidly growing leader in online payments. AlertPay offers several options:
AlertPay Personal Accounts
Personal Pro Account: If you want to sell something online and you need to get paid in a hurry the Personal Pro Account is the way to go. It gives you the flexibility to send and receive payments and do business using your name. You can open a free account in less than 5minutes by clicking here.
Personal Starter Account: If you are skeptical or not sure of where to start, use this option. The Personal Starter account is the ideal account to shop online safely without exposing your financial or personal information. It affords you the opportunity to get cash from your friends and family or send payments online for FREE.
Advantages of opening an AlertPay Personal Account:
1. No cost to send or receive payments
2. Accept numerous payments options.
3. Access to AlertPay Business Tools
4. Free for shoppers
5. Shop online without exposing your financial details.
6. Highly Secure.
AlertPay Business Account
If you own a business and you operate it using a unique business name different from your personal name, then an AlertPay Business account will be a good choice. It is tailored to meet all the needs of your online business. You will have access to numerous online business tools that will help your business grow online.
Advantages of opening an AlertPay Business Account:
• Conduct business under your company name
• Low transaction fees per transaction
• Accept Credit Card payments
• Sub accounts: Manage multiple online businesses with one account
• Website Payments: Buy Now Buttons, Subscriptions and Recurring Payments
• Business Tools: Integrate AlertPay into 3rd party applications
• Mass Pay: Send out payments to groups of people
Naturally, I love AlertPay because they allow online entrepreneurs from all over the world to open an account, Nigerians inclusive.
Note: I maintain an account with AlertPay and participate in their referral program.
There are other third party payment processors like 2Checkout.com, moneybooker.com, ikobo.com etc. But time and space will not permit that I talk about them now. Maybe I will discuss some of them in future post. Wishing you success in your online ventures. See you at the top. Cheers.
Update: Please note that AlertPay was bought over by Payza in March, 2012. Payza offer the same service AlertPay was offering and much more.