Irrespective of what people may say, the truth remains that the design and layout of a blog matters. Right from the launch of this blog, I've always try to use a blog design that will present my content in a simple but professional way. That has been my reason for always wanting to use a premium wordpress theme. Since premium wordpress themes are usually commercial, only few are truly free premium themes, it then means I can't change the blog theme as often as I like.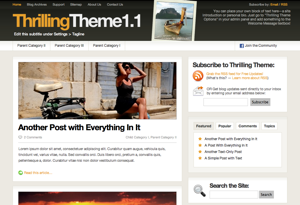 You may be wondering why I can't just save myself the whole stress and pay something like $50 to get a premium wordpress theme installed. Well, I've always tried to use free resources for this website (except in a situation whereby it is not possilbe to do so). Since the blog is an attempt to prove to would be Nigerian online entreprenuers that they can replicate the success of this blog, it then means that I need to go about things using a shoe string budget as much as feasible.
For those of you that have been a fan of this blog for some years now, you will notice that it's been over a year since I changed the theme of Nigerian Entrepreneur. After several months of procastinating because I consider the task of tweaking a free premium wordpress theme and getting the layout right a task I will rather not do. (I actually prefer blogging to having to tweak codes, html, css, etc.Like I said earlier, if I were to have my way, I would simply have outsourced the design of the blog).
Well, I finally gave in yesterday and introduced a new look using the premium theme Thrilling Theme from www.thrillingheroics.com The theme has a beautiful design and simple layout. Guess what, I actually got a copy of the theme in 2009, but I was afraid of the tweaks I will need to make to get the layout right. So, I kept prostponing switching from my former wordpress theme, Revolution Code Blue to Thrilling Theme.
I felt is was time to change the look of Nigerian Entrepreneur since over a month ago. However, I was not confident enough to switch to te new theme then because when I previewed it, there were several things that were broken. I simply told myself that when I'm less busy, I will do the change so that I will be ready to correct anything that gets broekn. Well, I never get the break until yesterday I when I simply told myself, that a better time may never come. It is better to switch and then start fixing whatever is broken one step at a time until it is all fixed.Just like there will never be a better time for you to start that small scale business you've been dreaming of. You just have to take the first step instead of allowing your fear to cage you and keep you incapacitated.
Well, I finally got over my fear and activated the theme yesterday. Since then, I've been under the hood tweaking codes and getting rid of some widgets in other to get the layout that I desire. After 24hours, I'm yet to get a perfect layout like I desire. But I fell better now that I have taking the first step of changing the theme. Nigerian Entrepreneur now have a new look. Apologies to my fans that visited when all the layout were heavily in disarray. Things are begining to take shape now.
I will love to hear your views about the new look and how easy it is to get at the information you need. Your suggestion will assist me in making corrections where I need to. Much more I wish to use this opportunity to thank you all for your comments. That is my greatest motivation. You are the reason why I still blog even when I don't feel like. I guess that is enough rambling about the change I just made.
If you love the new theme, please say so in the comments. If you have an objection, feel free to express your thought. Like I mentioned earlier, the theme is a free premium wordpress theme. It has options that you can easily tweak from the admin dashboard. Also, you can do whatever you wish with the theme because it is  open source! For your copy, visit www.thrillingheroics.com. Cheers.