1
Wave analysis of the USD/JPY currency pair for December 13, 2017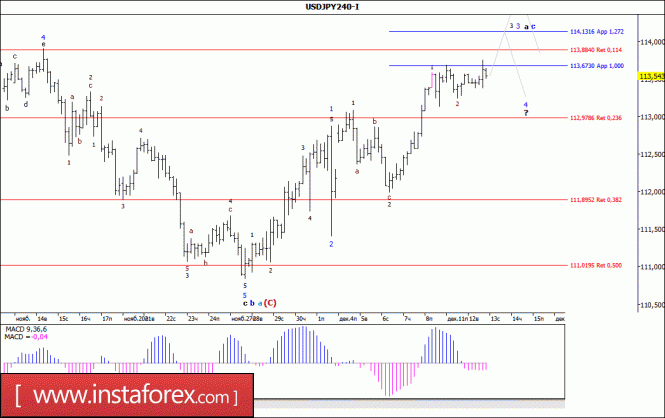 Analysis of wave counting:
Only in the second half of yesterday's trading was the USD/JPY pair able to update the previously reached high (113.70) and stabilize at the mark of 113.75. The resulting wave situation makes it possible to assume that the currency pair remains in the formation stage of the increasingly complex form, the 3rd wave, in a, in c, in a, in (C). If this is the case, then in the process of development of the wave structure of this third wave, in a, in c, in a, in (C), the currency pair may continue to rise in the direction of its projected targets located in the range between the levels of 114th and 115 figures.
Targets for a downward wave option:
112.97 - 23.6% by Fibonacci
112.50
Targets for an upward wave option:
113.67 - 100.0% by Fibonacci
114.13 - 127.2% by Fibonacci
General conclusions and trading recommendations:
The trading instrument continues to build the upward section of the trend. The assumed wave b, in a, in (C) has completed its construction near the mark of 111.01, which corresponds to 50.0% of Fibonacci. If this assumption is correct, then the increase in quotations will continue with the targets near the marks 113.67 and 114.13, which corresponds to 100.0% and 127.2% of the Fibonacci, within the wave a, in c, in a, in (C).