Since ideas are like elbows (everyone's got them), finding new and creative ways to connect with a wider audience and target the right demographic will get your brand out there and increase your numbers in sales and client conversion. In a recent article on Clickz.com, CEO of TopRank Online Marketing and author of "Optimize: How to Attract and Engage More Customers by Integrating SEO, Social Media and Content Marketing," Lee Odden offers several ways in which entrepreneurs can use social media to target the audiences who need their products or services most.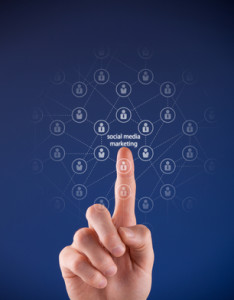 As a marketing expert, Odden advises new entrepreneurs to use social media to search for the audience that will benefit most from what you are offering, to learn more about what fans are talking about and what terms they use and to also find influencers who will spread the word about your product or service. Creating a Twitter account or Facebook fan page is a good start, but if you want to reach the right crowd of users, read on and learn how you can use social media tools to jumpstart your company's marketing engine.
Be a Social Listener
Before you reach out to groups and individuals on a social network like Twitter or Facebook, take a moment to see what your competitors are doing and what is working and what isn't. Odden says being a social listener means researching what your prospective audience is talking about and understanding what is trending in their world and why. If you are planning on building a used car dealership that sells only hybrid and electric vehicles, visit other Facebook fan pages or Twitter pages that belong to local car dealerships. Follow and like their pages and check out what their fans are saying and learn about who their customers are. Researching a Chapman Ford AZ fan page, or following a used car dealerships' Twitter feed can give you some ideas on how social media works when it's done well.
Get Connected
Being an entrepreneur is a profession that relies so heavily on sharing ideas and networking. Mashable.com's Dan Schwabel suggested his top social networks that are made for entrepreneurs, like Cofoundr, PartnerUp, and StartUp Nation. Cofoundr is particularly nice, because it offers exclusive deals and discounts for entrepreneurs and connects them with their niche groups. LinkedIn is a good way to connect with audiences and other entrepreneur professionals, but there are other networks out there. Young Entrepreneur caters to the younger startup crowd and The Funded, a review site that helps entrepreneurs connect with sources for capital to really get the ball rolling.
A Rewarding Experience
Everyone likes a deal or a reward for doing something, even if it's the gratification of getting a coupon for clicking "like" on a fan page. Startups like Buzz Meditations, an online jewelry store that focuses on selling to the younger crowd of yoga enthusiasts, got off to a good start for their social campaign by offering special gifts and rewards to the first 100 fans of its page. Facebook fan pages go on this model, offering special coupons and offers that only their "fans" will know about if they visit and like their page. The same is true for Twitter followers who can get deals that are exclusive to Twitter followers.
While your fans are grinning ear to ear about the reward they earned for liking or following you, tell them more about why you are the better choice to go with, out of the sea of other services and products out there. Once they're hooked on your brand, keep growing your services and improving your products, so your base will never stray.